Track and Field Events- A Brief Introduction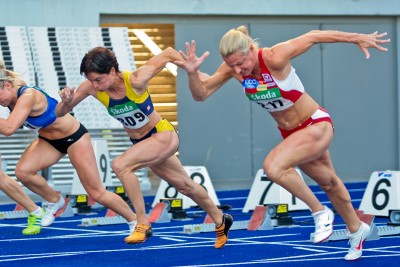 The singular sport known as track and field is one of the oldest sport in the world. It is not just one event. The sport is many events.
Each event in a meeting falls under the category of either track – events that are running based or field – event that are to do with either throwing or jumping. Attending a track and field meeting is like going to a three-ring circus, there is a lot going on all at the same time and the action comes thick and fast.
As I have already stated, the sport of track and field includes running, jumping and throwing and it is open to both men and women. So, let's look at some of the events.
Track Events
The events that involve short track running are called dashes or sprints. The shortest running event is the 100m sprint, which is probably the most popular one. There is, however, the 60m sprint but that is normally held in an indoor setting on a smaller track. Other running events include the 200m and 400m tracks, and these are called sprints.
There are other short track events as well, such as the hurdle events. In it, athletes have to jump over evenly spaced hurdles while running. Men, as well as women can take part in the 400m hurdles, however, only men can take part in the 110m high hurdles, while the female versions of this is the 100m hurdle.
Middle distance track and field running events consist of 800m, 1500m, and 3000m races, there is also the 3000m steeple chase for both men and women. Long distance track and field events include 5000m and 10,000m races.
In addition to these, there are a couple of relay events where four runners run equal parts of the race, these parts are called legs. The current or in coming runner carries a baton, when the baton is passed from one leg to the other this is called a changeover. Most common relay events are 400m (4 X 100m) and 1600m (4 X 400m).
Field Events
Field events are divided into two separate categories: throwing and jumping. Throwing events are javelin, hammer, shot put, and discus. Javelin, hammer and discus are the longest of the throwing events. By the process of elimination the shot put covers the shortest distance of all the throwing events.
Jumping events include pole vault, high jump, triple jump, and long jump. Pole vault and high jump require contestants to jump high, while triple jump and long jump require them to jump far.
High jump requires the contestants to jump above a bar placed at a particular height without assistance. Pole vaulters on the other hand are expected to jump much higher primarily because they are aided by the use of a fiber glass pole.
In the long and triple jump, track and field contestants will first run from between 40m to 50m before jumping as far as they can. The triple jump uses the same pit and runway as the long jump, but the take-off is further away from the sand pit area to allow for the two additional jumping phases the triple jumper have to accomplish. The triple jump begins with a hop, transfer immediately into what is called a step, (both of these are done on the run way) and finishes with a jump into the sand pit.
Combined Events
Finally, there is an event that is made up of the amalgamation of several event to creating a single one, this is called the combined events. The male version of this is called a decathlon. It is contested over two days and includes 10 events: shot put, long jump, 400m, 100, high jump, 110m hurdles, pole vault, discus, 1500m, and javelin. The women version of this is called the heptathlon, this has 7 elements: 100m hurdles, high jump, shot put, 200m, long jump, javelin, and 800m.
Read more:
Every athlete is different, so the right training strategy would also be different. There is no absolute best when it comes to training athletes for events.
Planning your own workouts can be quite overwhelming. Which exercise should you do, and how much?
Finding the Right Shoes
If you are looking for the best track and field shoes for yourself, then you must know that the right shoe depends upon the person and his needs.
History of Athletic Events
Though there are no detailed records of when the sport began, experts say that track and field history can be traced back to 776 B.C.
Getting Started in Distance Running
Distance running is the most participated activity in track and field but you need to make sure you begin training correctly.
Training Methods for Endurance Athletes
You should apply these proven principles in your training to improve your performances.
Training Methods for Power Athletes
Utilizing the correct training methods for power will squeeze the most from your training program and deliver suburb results.
Women have been an integral part of track and field since tjhe sport began. Here we describe their journey to full acceptance in all events.
The triple jump is mor than just a hop, step, jump. Read this article and learn how to triple jump like a champion.
Track and Field Videos
Find out how you can get the experts in your event or sport to help you without them having to come to you or you go to them...
Sign Up For The Latest Track And Field News And Improve Your Athletic Performance!


Back To "Faster, Stronger, Better – Your Shortcut To Improved Athletic Performance"
---
© 2011-2021 Elite-Athletic-Performance.com – All Rights Reserved
Click here for Disclaimer and Privacy Policy