Women Track and Field
A Brief Walk Through History
It is sad but true that women track and field have had to fight tooth and nail for equality in sport. In general, women are able to compete in as many sports as their male counterpart. However, due to social issues, it has not been until the late twentieth century that we have seen women's participation in sport, in significant numbers. We are at a stage now in our evolution where some female sports stars are as much icons as some of the men.
The mass participation of women in track and field is a relatively recent thing. Going back to ancient Greece, women were forbidden to compete in the ancient Olympics Games and were never encouraged to be athletic. The exception to this was the Spartans, who took a different stance (thank goodness). They openly encouraged their girls to be athletic. Their philosophy was that strong women would bear strong warriors and who would disagree with that?
But the ancient Heraea games would see a change in how women were perceived in sports. It was here that the first documented athletic competition for women was held. And although it is not clear what events were contested, it is thought that they participated in the same foot races as the men.
In track and field it wasn't until 1921 where representatives from six countries formed an athletic federation for women, which then merged with the International Association of Athletics Federations (IAAF) in 1936. It was at this time that women track and field became properly organized. Until that time, women competed without proper representation from a recognized worldwide governing body.
This was also probably the reason why women could not take part in international competition until after they were affiliated to the men governing body. The good thing is that participation by women in track and field has grown at a rapid pace in many countries since then, particularly in Europe and the United States, where many schools have now added women's track and field to their athletic programs.
Men and Women Track and Field Events
In the early days of track and field, due to certain taboos and wrong assumptions about female body being able to withstand certain forces, women were not allowed to compete (to protect them) in some track and field event. For example in the 1928 Olympics in Amsterdam – the first Olympics where women were allow to compete, only five women's event was contested, these were:
100m
800m
4 x100m
HJ
Discus Throw
In the 1936 Olympic Games, this figure had only gone up to six, the addition being the 80m hurdles. In the London Games in 1948 there were still only four track and five field events in the women track and field program. But slowly over time as women became emancipated and science proved that they did not need to be wrapped in cotton wool, women were given full status in track and field events.

The Last Few Steps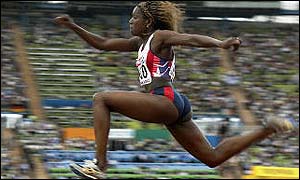 Nowadays, women's athletics programs are the same as the men. The most recent additions are the Steeplechase, Pole Vault, Hammer Throw and the Triple Jump.
The Women's Triple Jump
The women triple jump was first introduced into competition in the USA in the mid nineteen 80s and gained championship status in 1993 in the European championships, it was introduced into the world athletics championship in 1995 where the current world record was set and finally became an Olympic event in 1996 in Atlanta.
The Women's Pole Vault
The IAAF began ratifying women's pole vault world records in 1995 and the first official international championship was staged at the 1996 European Indoor Championships. The event became part of the World Indoor Championships programme for the first time in 1997 and the outdoors championships two years later. The Women's pole vault was given full recognition in being part of the 2000 Olympic program.
The Women's Hammer Throw
Women began to throw the hammer in the 1980s, and as participation grew across the world the IAAF officially began to ratify world records in 1995. It was another 4 year in 1999 in Seville before women's hammer throw was added to the World Championships program. Women's hammer throw made its Olympic debut in 2000 in Sydney.
Women's Steeplechase
Women steeplechase is 2000m rather than the men distance of 3000m. The first official world record was ratified in 1996. It was introduced into the 2004 world junior championships and then the senior world championships in 2005 in Helsinki. The event was totally accepted into the international arena when it was introduced into the 2008 Olympic Games in Beijing.
And with the inclusion of the events above, women track and field is now on par with their male counterpart.
Sign Up For The Latest Track And Field News And Improve Your Athletic Performance!

From "Women Track and Field" Back To "Faster, Stronger, Better – Your Shortcut To Improved Athletic Performance"
---
© 2011-2021 Elite-Athletic-Performance.com – All Rights Reserved
Click here for Disclaimer and Privacy Policy